Certificate of World Record H.B. Class. Shot with Custom made Heavy Bench Class rifle made by B.R.S. Custom Rifles. IBS Nationals Ohio USA.
World Record Group at 200 yards for 10 shots in Heavy Bench Class measuring 0.275″ , set at IBS Nationals 1988 in Ohio USA.
Gun Smiting Diploma. B.R.S. Custom Rifles.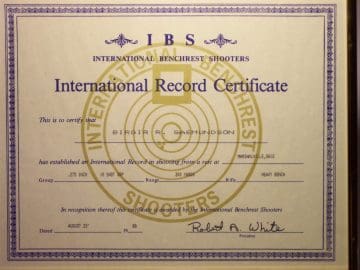 B.R.S. Custom Rifles.
Birgir Runar Saemundsson of BRS Custom Rifles, shooting a Heavy Bench 1000 yards 7 MM Rem MAG Rifle. Made by himself,and this rifle was used in Ohio 1988 to set a new world record at 200 yards, 10 shots measuring 0.275 inch! At that time the rifle was chambered for 6 MM BRS, designed by Birgir. This case gives similar velocity as 6 MM Rem BR. This rifle is pillar bedded into stock, with bisonite bedding compound. Pillar bedding method utilized. Rifle action is accurized and sleeved with a 15 inch long sleeve, 2.3 inch in diameter. Action can take up to 1.75 inch diameter barrel. Stock is Lee Six converted to my taste. Trigger is Hart 2 oz. Scope on photo is Unertle 32 X for 1000 yard shooting. Last years I have used a SecoZoom Rifle Scope 4x50x70 with very good results.
For over 40 years we have been making custom rifles, varmint rifles, tactical rifles,hunting rifles,target rifles,bench rest rifles. Publishing books Gun Silencer manual, Muzzle Brake manual, Double Action Silencer, Pistol Silencer manual and Rifle Bedding Book, which is about Glass bedding Rifles.Tool design and development. Internal ballistic tech. Bench Rest competition for over 40 years and one World Record set in 1988 in Ohio USA. In Heavy Bench Class at 200 yards 10 shots in 0.275 inch.
Our Maxim about rifles: Only the best is good enough!
Address.
Birgir Runar Saemundsson
B. Gata 3.
825 Stokkseyri
Iceland.  E-Mail  admin on rifflar dot c..
Contact Us Here. Please be specific.
Testing Muzzle velocity on 7 MM Remington Magnum rifle.
Using Labradar Chronograph.